Let me introduce Jeff & Vanessa Sant,
they too were looking for extra income and look what our unique business system has given them
With a growing family and college and university fees to consider, extra income for us was an urgent requirement.
I had been a nursery nurse for 24 years and knew that to increase my income would require extra hours or 3 years teacher training, neither of which I relished. Jeff was already working unsociable hours as a financial adviser and the stress and boredom was beginning to take its toll.
We discovered the Forever opportunity and whilst initially sceptical about the earnings potential, we were excited that we had perhaps found the answer to our predicament.
Five years later, we have experienced an amazing journey. I am no longer a nursery nurse and Jeff is no longer in financial services. We focus our time on developing our business and are achieving goals and dreams which would not have been possible had we stayed in our "day jobs".
Where else can you set up in business with no related skills, no financial risk and build a business with all the help and support of an ethical, multinational, billion-dollar company - and then dictate your own income. Our message to anyone considering this opportunity is "Don't let it pass you by. If more income is what you need, Forever has the answer".
Jeff & Vanessa Sant
W Midlands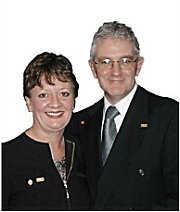 Here are more people who wanted extra income too, read what they have to say..