Let me introduce Andy Waring & Viviane Bernhard,
they too were looking for extra income and look what our unique business system has given them
Just a few years ago we seemed to be struggling against the tide. I was running a dwindling business and Viviane was in a full-time job in publishing. We were both working hard and although we were managing to make ends meet we didn't seem to have either the time or the money to do the things we wanted to do, we struggled to pay the mortgage and our debts were getting bigger every year.
We were concerned about the future - all I could see was it getting worse and worse and us having to work harder and harder. Our lives were slipping by and we wanted more out of life. We wanted to travel more, do more, spend more time with family and friends, have more fun and work less. Other people seemed to so why couldn't we?
Then one day a friend of mine gave me a tip about an American manufacturer called Forever Living that was looking for people to organise the distribution of its products in Britain. We arranged a meeting and went along for a chat. Fortunately they weren't looking for any investment so, although at first we were very sceptical about our chances of success, we decided we had nothing to lose and thought we should give it a go. We soon found that there was a huge demand for the products and the business just grew and grew.
Our 'small' home based business is now turning over more than £1 million per year and we still run it part time and it has changed our lives. Neither of us have to do anything else and we have time to enjoy life. We took seven holidays last year and we are looking forward to more again this year. We are earning more than we have ever earned before and are thrilled to be able to say that we are completely debt free.
Andy Waring & Viviane Bernhard
Dorset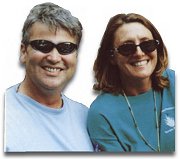 Here are more people who wanted extra income too, read what they have to say..