Let me introduce Chris & Alan Goldsbrough,
they now have the time to live the life they choose, thanks to our unique business system
With successful careers in the textile industry, Alan with 30 years experience & myself with 20 years, we really knew no other way of life.
As Directors of two different companies we were successful, we earned good money, but we didn't have any time to enjoy life. We were both working longer & longer hours, our stress levels were rising, our health was suffering and our dream of retiring before we were 60 seemed to be fading fast!
Then three years ago we were introduced to Forever. Starting very part-time, after just 6 months I was able to give up my job and at the beginning of this year Alan took early retirement to join me in building our Forever business.
We now have a quality of life we only ever dreamed of. We do what we want, when we want and we do it by helping others achieve what they want – it's the best decision we have ever made!
Chris & Alan Goldsbrough
Leicester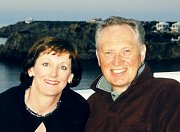 Here are more people who wanted more time too, read what they have to say..