Let me introduce John & Vivien Ellis
they now have their Own Business thanks to our unique business system
Vivien was a successful deputy head teacher with 30 years experience and a good salary. Alive but with no life. I was 50, redundant from industry with no pension, and worried about how I could ever honour my promise to help her escape from teaching.
In just a few years Forever has rescued Vivien from a slippery slope to certain ill-health, and has given us both a rewarding new career.
We have been able to convert our house into the home of our dreams, and we have the money, time and energy to enjoy our garden, play golf, travel to far-off places, and indulge a passion for classic cars. Whenever we want to we can stop "to smell the roses" or, just do nothing…
What could possibly be more rewarding than running your own part-time home-based business amongst happy, supportive, positive people? A business which can only succeed by helping others improve their health, wealth and lifestyle?
Thanks to Forever, we now have financial freedom and security, and a very exciting future...
John and Vivien Ellis
Kidderminster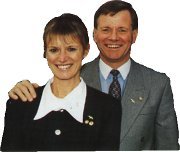 Here are more people who wanted their own business too, read what they have to say..