Let me introduce John Curtis & Jayne Leach,
read what financial freedom means to them
We were introduced to Forever in 1993, a time when we were looking for a way to achieve financial freedom. Jayne's background had been farming, a great way of life but generally yielding poor financial rewards, whilst mine was as a Chartered Surveyor who had gone on to senior positions with major companies but still without achieving financial security. We wanted a richer quality of life, where we could educate our four children at top schools, live in a beautiful home and drive dream cars, as well as being able to indulge our passion to travel extensively, and never again have to worry about household bills and credit card balances.
Quite sceptical at first about the business opportunity, we were nonetheless fascinated and excited with the royalty aspect, where we would put in the work and then continue to get paid month after month - the route to large residual income and our long-term financial security seemed to lay in simply finding and then helping others to get what they wanted. Awesome!
Was there a catch? Work, because we worked really hard for in the first three years but it was fun. And it delivered, because our third year income was over £100,000. After that we eased off a bit but it had doubled by year six and still continues to grow. The children have been educated at those top schools, we live in a beautiful barn conversion in the country and travel the world - North and South America, Japan, The Philippines, Australia, New Zealand, and all over Europe. We're also on our third Mercedes, a fabulous sports convertible.
We do Forever these days from choice, not because we have to do anything, ever again, that we don't want to! You see, when you're given an opportunity to reach out and touch other people's lives with the real hope for a better future, would any decent human-being be so selfish as to turn their back and not want to share that with others? Not us, and we'll keep on doing it and having fun at the same time.
John Curtis and Jayne Leach
Milton Keynes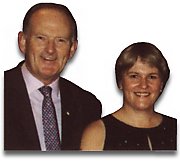 Here are more people who wanted financial freedom too, read what they have to say..